What is possible with balloons?
Although I only work with balloons, there are many ways to manipulate a bubble of latex, especially in the range of colours and sizes that I use. Keep in mind that every sculpture is custom made, so there is no limit to the themes possible.
Suitable for indoor events only.  Any subject imaginable. These can be built on site the day before, or for entertainment suspense, can be build during your event as the crowds look on in anticipation of the final result.
Half day $2000 or by the item
Need a mascot costume, but only for one day? Fun characters and quirky art on legs. Customisable to your theme. Add another costume or two to really get the festivities going over a large venue.
$500 – $800 plus performer $100/hr
          or DIY – team building
Make your own creations under the gentle guidance of a master artist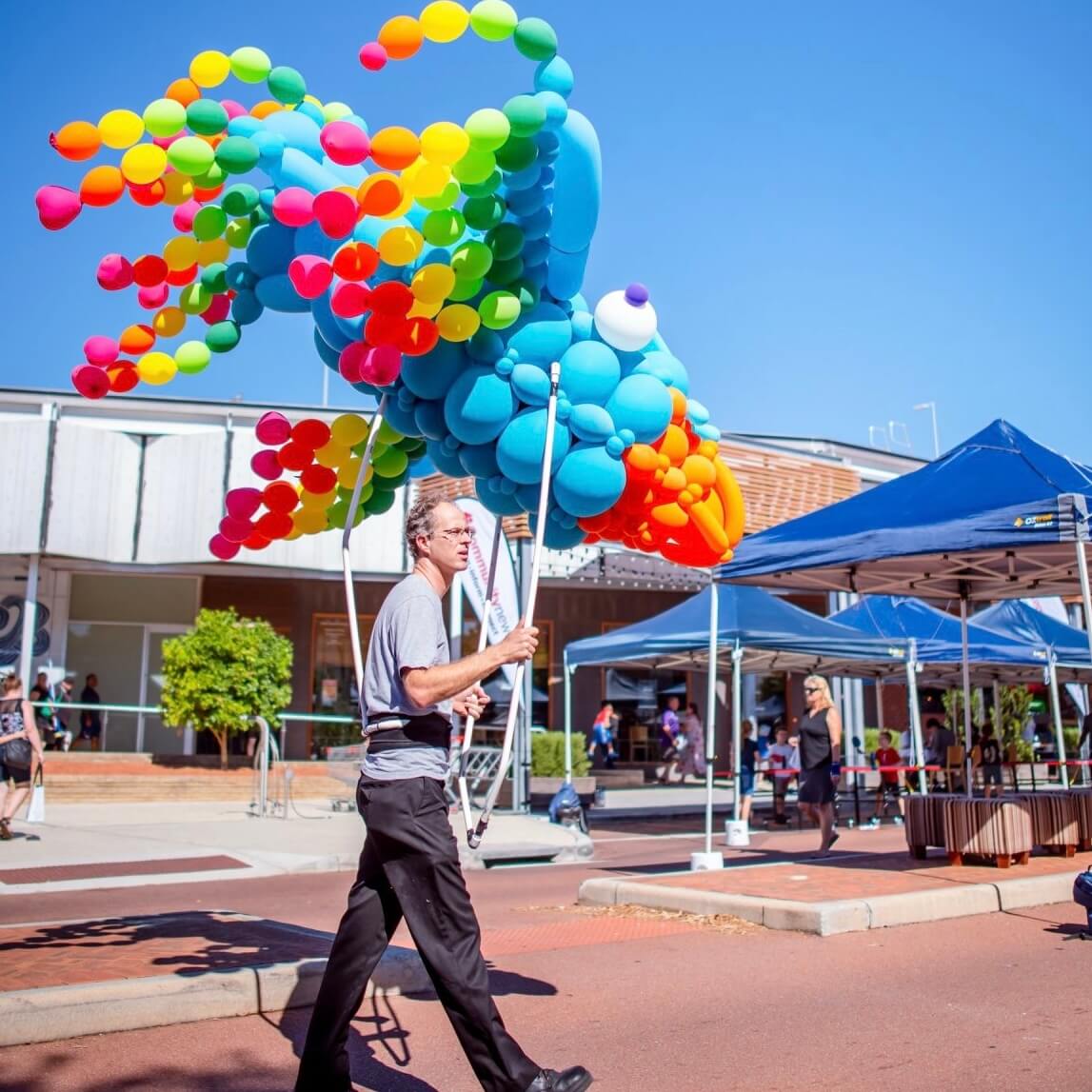 Themed large balloon puppets hovering just above the crowd. A range of paradables are available but can also be custom designed to suit your needs.
$500 – $1500 plus performer $100/hr
Your logo or backdrop theme built by the community.  Full instructions provided. The average mural takes a community group approximately a day to build, but smaller or larger designs can be arranged. 
$2000 design and balloons plus $200 per supervisor per half day. Extra supervisors can be provided by you.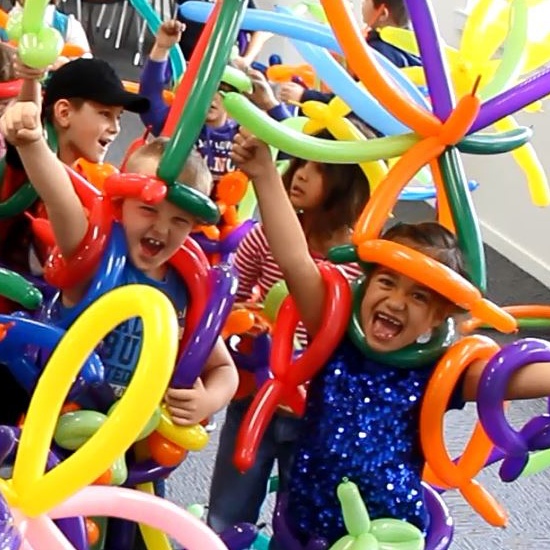 What better way to break the ice than with balloons.  Make your own creations under the gentle guidance of a master artist.  Each participant will go home with something uniquely theirs. A short show, followed by a hands on workshop.  Supervision for children is expected but adults are welcome to participate.  All adult groups welcome too.
$460 for up to 25 participants plus $8 for each additional participant. Bulk or week long bookings available. This includes all balloons and transport within the Perth metro area. Country bookings are welcome too. School and holiday groups encouraged.
Like being hugged by bubble wrap, these dresses are warm and flexible. Taking up to 24 hours to construct, you can be guaranteed to have a one-of-a-kind designer dress. Limitless designs.
$800 – $2000
A special, pre-made sculpture for the guest of honour.  Choose any subject matter and I will sculpt it artistically in latex.  See the gallery for past requests.
$200+ or half price with a booking of 2 hours or more.
A truly personalised gift for someone special.  A bottle of wine gift wrapped in a custom made balloon sculpture.
$30 – $100 you provide the bottle. 
Pick up only or delivered to an event booking.
Belle and Beau of the ball, Bride and Groom, or just hand them around for  15 minutes of fame. The guests of honour will not be missed in one of these amazing hats.  Perfect for drawing attention and crowning them in the spotlight.
$30 – $60ea delivered to an event booking.
Narelle's creations just elevated our event to the next level, giving it a whimsical and fun flair. Our guests all thoroughly enjoyed getting to take home the special gifts. And Narelle's attention to detail and understanding of what we needed to make our event pop was priceless! 10 outa 10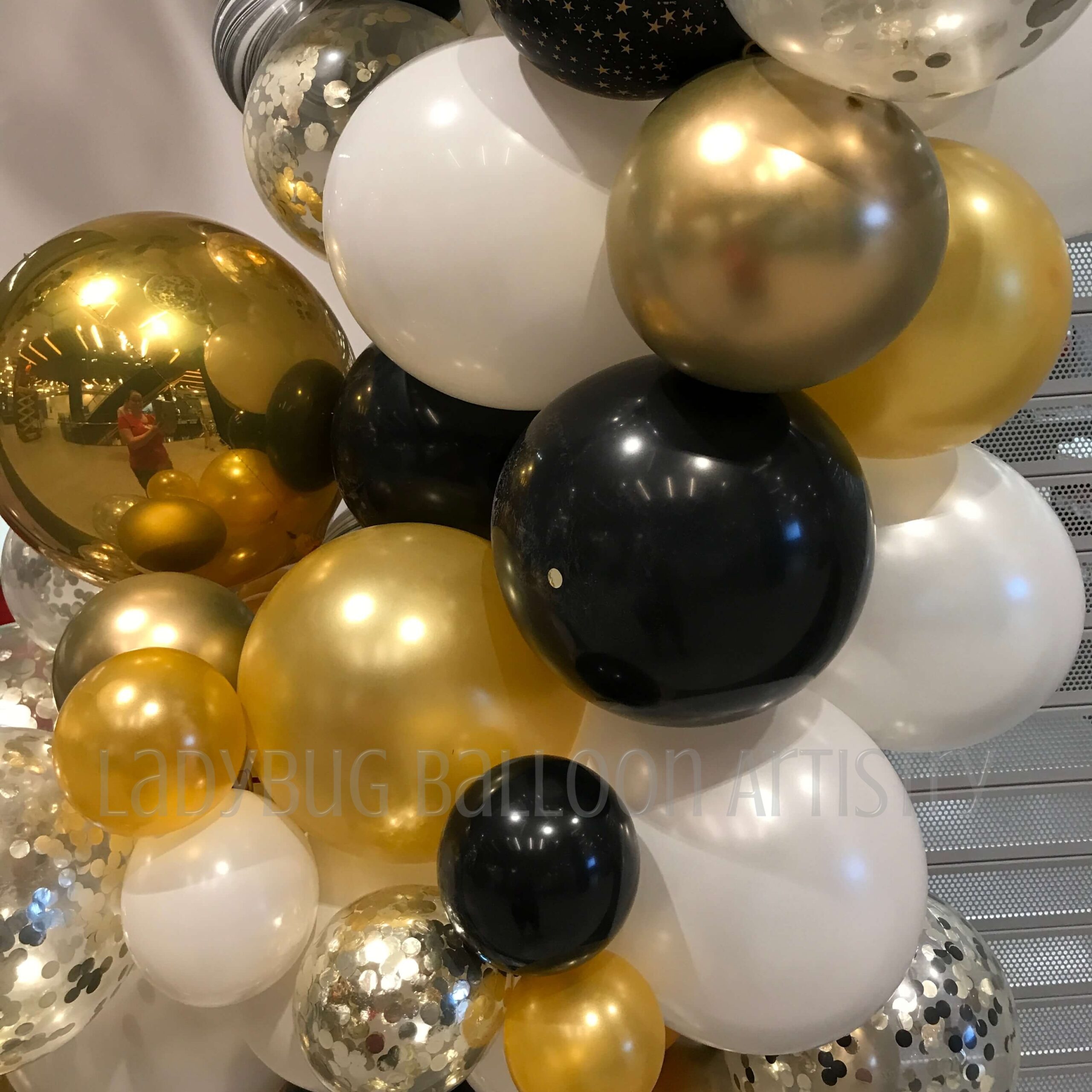 These popular garlands have taken the balloon world by storm. Elegant yet fun. Swags, arches, demi-arches, and even organic walls are possible. Find a picture on Pinterest or let your imagination run wild.
$100/m minimum 3 metres
Want your school ball to look like they do in the movies? Or just need something big and attention grabbing? An arch is the perfect venue décor to fill a space with your theme colours. We do several different styles of arch, but they are all air-filled.  
$500 – $1500
 Limited for space but still want something eye-catching? Our columns come in many, many different styles to suit your theme. Most tops are fully customisable to say a special message or display your logo with vinyl letters and shapes. 
$200 – $800
Perfect for a restaurant or reception setting, table centre pieces bring a sense of party but within a limited space. Guests will instantly know where the party is.
$40+ each or half price each when you order a minimum of 10
Perfect for social media, photo frames encourage attendees to take selfies and post images of the fun they are having at your event. Every shared image will spread your celebration, theme or brand and keep the fun going long after the party.  I can also provide a box of balloon props or some fun balloon hats to make the experience even more fun!
$200 – $800
These are super fast to make, but have over 40 000 variations to suit even fussy guests.  Most designs are wearable, so your hands are free to party on.
$200 per hour per 60 people
$400per hour no maximum
Hand made incredible sculptures to really WOW your guests, anything goes.  Typically 3-8 minutes per sculpture.
$200 per hour per 15 guests 
$50 per 10 min overtime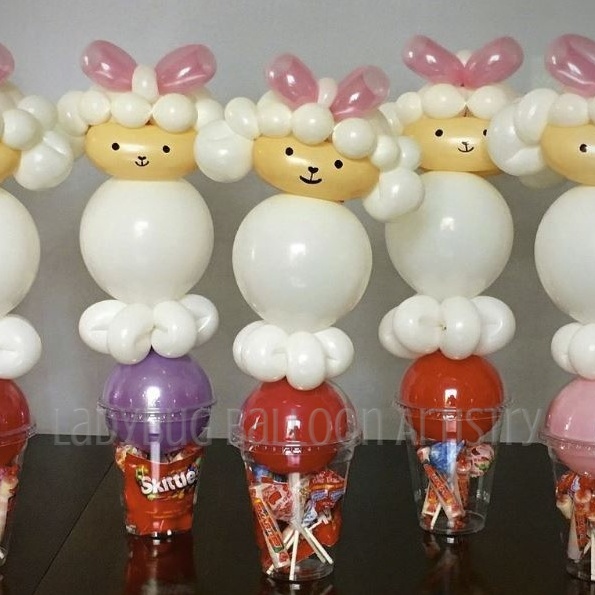 Personalised sculptures on domed cups, ready to be filled with any small treats. Perfect as thank you gifts for your guests.
$150 – $800 for 20 cups
Pick up only or delivered when you book another service as well.